Welcome to the Aventura - (Manga) Wiki!
Aventura is a manga by Shin Midorikawa. This is a wiki about the details of Lewin and co.'s adventures in magic and comradeship - from the elements of swordsmanship class to the awaited question of "When's the next volume coming out?" I would very much appreciate help in creating this wiki! Even just adding a sentance or so would be nice!
Intro to Aventura
Aventura is, as stated, above, a manga by Shin Midorikawa. There are currently three volumes out in English and five in Japanese. Aventura follows the story of young Lewin Randit - a student at Gaius School of Witchcraft and Wizardry. Gaius consists of two main sections - the Magic Class and the Swordsmanship Class. Lewin, a member of the Swordsmanship Class, becomes friends with Chris Cottonburg and Soela Evenport, both member of the Magic Class. Lewin has previously shown a total (and unusual) lack of magical ability, but after his fateful encounter with the two magic students, some sort of special ability residing inside himself becomes apparent. However, something strange is going on at Gaius, and the trio get caught in the middle. Meanwhile Professors Chesford Arshes and Qualfer Riventzel are racing the clock in an attempt to find who or what is causing the trouble at their school, routinely crossing paths with Lewin and his new-found friends.
Featured Article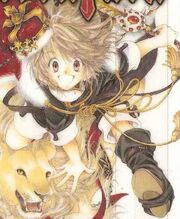 Lewin Randit is the protagonist of Aventura so it seems only natural that his article should be the first to be featured! Brave and headstrong, Lewin is the sort of boy that just wants to have fun, but ends up saving the world on the side!
Character Poll!