Cure-Noir Tresor

Cure-Noir Tresor (Volume 2)

Title:

Ice Witch (one of the three ancient gods)

Family:

Milieu Rouge Tresor (younger sister)

Species:

Unknown (winged feline)

Volume Appearence:

Vol. 2

Chapter Appearence:

Chapter 8

Protective Element:

Water

Birthday:

Unknown

Eye Color:

Golden Amber

Fur Color:

White
Cure-Noir Tresor
is one of the three ancient gods that support the sky and earth - "the Ice Witch". Although she appears to have a feline form - much like a Maine Coon cat (but with wings) - she is also
Milieu Rouge Tresor
's elder sister. She does not like
Lewin Randit
, and consideres him a threat to the three witches, once his magical ability is revealed.
Appearance
Edit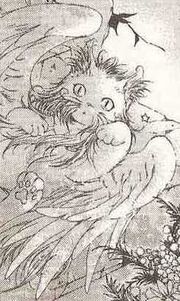 Cure-Noir Tresor takes on the appearance of a winged cat. According to Midorikawa, she's based off the Maine Coon breed of cat (which are very huge and
very
fluffy). Her fur is not the same color as most winged cats, though, because the late Scarlet Sorcerer cursed her fur white, instead of black. She has golden amver colored eyes.